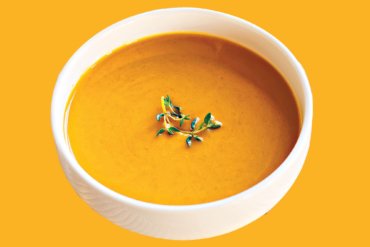 Mama took a rickshaw bus to May Pen Market Thursday mornings and left the men in our house confused about what to feed us. Uncle Gary, suddenly inspired, would stare up at the Island sky, searching fervently for birds. Armored with a makeshift catapult, he aimed, shot, and counted the thuds on the ground to match the seven mouths to feed. He roasted the tiny birds over an open fire and seasoned the meat with salt.
Papa fed me in snippets of culinary delight – palate-pleasers that gourmands would praise for simplicity of execution and depth of taste. But for a child whose belly grew accustomed to the weeping moans of emptiness, the foods he shared seemed to make a mockery of my vast appetite. Unbeknownst at the time, they also inspired the epicure that I would become later in life. Papa prepared two specialties in particular; the first was a sweet plantain porridge. The creamy bowl of pleasure is a marriage of warm spices – nutmeg, cinnamon and allspice, vanilla- with the sweetness of brown sugar, coconut, and condensed milk.
Papa's second palate-pleaser was a pumpkin stew.
With the pumpkin still connected to the vine, he knelt in reverence to the red earth. He knocked the gourd, and listened carefully for it to "speak"- pumpkinese– I always suppose in my childish mind.
If the pumpkin did not speak or he could not understand, he left it connected to the vine. Then whenever one moved him to action, he carved a small triangular peg to confirm the color of marigold hidden beneath its green exterior.
He roasted the pumpkin atop pimento wood in an outside fire and mashed it to a velvety purée. The earth and the sun had done their part – Papa whipped in only butter and sprinkled a little salt. I've added Parmesan cheese to the recipe, an addition I believe my family would heartily approve.
The foods of my childhood surged within me a love and respect for what it tastes like when the sun, earth, and hands of mankind can find communion in a meal.
Published in skirts Magazine
Kadine Christie
Papa Plantain Porridge
Ingredients
1 ½ green plantain
2 ¾ cups Coconut Milk
½ cup water
¼ teaspoon of salt
¼ teaspoon cinnamon
¼ teaspoon allspice
⅓ cup Condensed Milk
1 ¼ teaspoon Vanilla
A pinch of nutmeg
Sugar to taste
Bring 2 cups of coconut milk to boil, then turn to low heat.
Peel and dice green plantains.
In a blender, combine plantains, water, 3/4 cup coconut milk, allspice, nutmeg, cinnamon, and vanilla. Puree till smooth, about 3 minutes.
Pour mixture into the pot of coconut milk, and stir until it thickened about 8-10 minutes.
Turn off heat and stir in salt, Condensed milk and sugar. Serve Hot
Pumkin Stew
Ingredients
1 pumpkin or winter squash
5 pimento seeds
2 tablespoons olive oil
4 tablespoons butter
4 tablespoon grated Parmesan cheese, with extra for topping
1 ½ salt
½ teaspoon ground black pepper
Preheat oven to 400 degrees.
Cut off and discard the ends of the pumpkin. Peel the pumpkin, cut in half lengthwise and remove the seeds. Cut the pumpkin in ¾ cubes and place cubes on a baking sheet with pimento seeds. Toss oil, spices, and Parmesan cheese together and spread in a single layer on top.
Roast pumpkin for 20 minutes, then turn cubes over and roast for an additional 10 minutes, until pieces are brown on both sides.
Discard pimento seeds, and mash Pumpkin while hot. Whip in butter
Scoop into a ramekin, sprinkle with extra Parmesan cheese as desired and broil for 3-4 minutes. Serve HOT