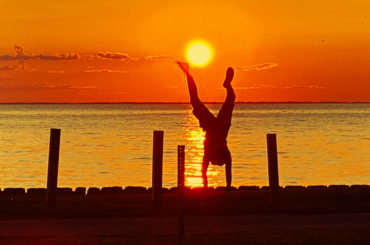 My God, my God, why have you forsaken me? Why are you so far from helping me, from the words of my groaning? O my God, I cry by day, but you do not answer; and by night, but find no rest.~Psalm 22:1-2
Yesterday at sunset, I captured a photograph of my son doing cartwheels. In this photo, he was upside-down – feet in the air, face to the ground.
It made me think about the times, especially today as we remember 9-11, that our world flipped us over, and we felt like we were walking on our heads. I was a 20-year-old college kid in Jamaica when the dreadful images of the towers collapsing and people crying streamed across my television. It was the first time I heard curse words on TV, and I think then, they were justifiable. There were no appropriate words or reactions for such horror.
This week my world was turned upside down again. My 98-year-old Grant Aunt, who lived with us and helped raise me, passed away. Even though she was tired and was ready to sit beside Jesus, it was hard to swallow. It's never easy losing a loved one. You walk around disoriented, unsure of how to place one foot before the other.
I know you all have your versions of being turned upside-down. Whether it's an unwanted diagnosis, ongoing illness, chronic pain, losing loved ones, going through a separation, losing your job, or painful memories that linger — grief is a part of our human experience.
In these times, we feel like God is far away like we've been forgotten. We wonder where God is and if God would ever answer us when we pray, cry, scream, beg, and plead. So did King David. Many of the Psalms begin like this: crying out to God, wondering where God is and when help will come. Most of these kinds of Psalms are known as laments. A lament is a literary form – prose or verse – used to express suffering, distress, and anguish to God.
When your world is upside down, give yourself the freedom to LAMENT! Like David, cry out "My God, my God, why have you forsaken me? Why are you so far from saving me? My God, I cry out by day, but you do not answer, by night, but I find no rest."
Reflection:
How has your world been turned upside down in recent days? Did you give yourself the space to lament?
Let Us Pray:
Creator God, we come to you deeply distressed and troubled.
Questions fill our minds: Why did this have to happen?
How could you allow it? Where are you in the midst of it?
Lord in your mercy hear our cry and come quickly to help us!
Amen.
Blessed Love!
Ontonio